Arrowsic has four lighthouses. Possibly we have the highest number of lighthouses per capita of any town or city in the USA. Furthermore, these lighthouses are rare in construction, as well as eye-catching.
The Doubling Point Lighthouse, right, lights the curve that leads downriver from Bath to Fiddler's Reach. You can read about it on its own web site: click for Doubling Point Light.
At the other end of Fiddler's Reach are the Kennebec River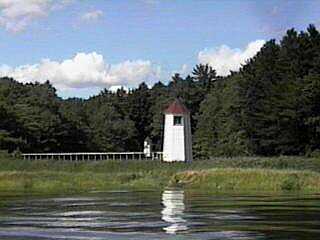 Range Lights. Mariners line up these two lights, one behind the other, as they journey upriver toward Bath. You can see how the lights work and learn much from the Range Light Keepers' web site.
Note: the road to the Doubling Point and Range lights is narrow with no turnaround. RVs are prohibited for that reason.
All three of the Arrowsic lighthouse facilities are in the hands of non-profit groups that see to their maintenance and preservation.
Down river, where the Kennebec turns slightly east and runs to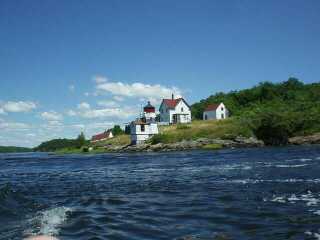 meet the ocean, you can find Squirrel Point Light. The Keeper's House, boathouse, and other outbuildings are preserved on this point, which is accessible by foot only.